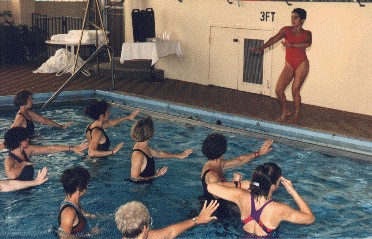 SALSAquaticsSM is aerobic pool exercise that incorporates the steps to popular Latin dances such as Salsa, Cumbia, Mambo, Merengue and more.  For those new to tropical Latin and Caribbean rhythms, SALSArobics provides an opportunity to learn the steps to Latin dances while exercising in the pool.  SALSAquatics is the Latin pool party that delivers a whole-body workout.
A typical SALSAquatics class consists of a warm-up, which includes dynamic stretching, a cardiovascular segment, a strength training segment and a cool down segment.  Proper postural alignment, safe dynamic range of motion, and Latin flair are emphasized throughout the class.  The music includes rhythms originating from Latin American countries to Spain, the Caribbean Islands and Africa.  Class focus can be varied to emphasize back strengthening, toning, sports cross-training, and cardiovascular conditioning.  Classes also can be varied for groups, including seniors, youth, and couples.
For information on class locations, contact us.