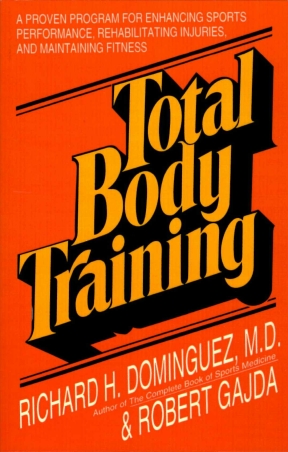 Total Body Training is the book that originated the now-popular term the "core" for those muscles of the center of the body that are key to balance and stability in all physical activities.  Total Body Training provides a solid theoretical basis for the development of the core, and presents a broad, effective program for the development of strength, posture, and balance for all physical activities.  Total Body Training is essential reading for anyone who is serious about sports performance, rehabilitating injuries, and maintaining fitness.
"Bob Gajda has been a mentor to me.  The techniques he presents in Total Body Training have been incorporated in all SALSArobics activities."
- Esther Gutiérrez-Sloan

Price:    $19.95 (US$)
Robert S. Gajda, MS, RKT, has a BS degree in Physiology, an MS in Exercise Physiology (both from George Williams College) and a Ph.D. in biomechanics (dissertation pending) from the University of Illinois.  Bob is a registered Kinesiotherapist.   He has been the Director of Professional and Public Education for the American Cancer Society, Assistant director, Drug Education for the Robert Crown Center for Health and Education, faculty member and research assistant, Department of Health and Safety Education at the University of Illinois, Executive Director of Health Plus Network in Bannockburn, IL, Co-Chairman for the Chicagoland Council on Physical Fitness, Sports and Health and VP Moving Force Systems the innovative fitness equipment company.  He has personally trained a "Who's Who" list of top professional athletes, including greats like: Bill Buckner, Scott Sanderson, Rocky Blier, Gary Fencic, Richard Dent, Jim McMahon, Mike Singltary, Bret Hall, Dennis Savard, Al Secord, Andrea Yeager, Tracy Austin, John McEnroe, Jimmy Conners, Yannick Noah, as well as working with many college Olympic and professional teams like the 1984 and 1988 U.S. Men's and Women's Olympic Volleyball Teams, Chicago Sting soccer team, Chicago Black Hawks, Harvard Tennis Team...   Bob is also a former Triple Crown winner: Mr. America, Mr. USA and Mr. Universe, a highly regarded public speaker, consultant, author and, in Esther's opinion, an all-around great guy.
Also by Robert S. Gajda, MS RKT:  Power Tennis
Robert H. Dominguez, MD, is a board certified orthopedic surgeon and Co-Medical Director of the SportsMed Center for Fitness in Carol Stream, Illinois.   He is Chief of Staff at GlenOaks Medical Center, Glendale Heights, Illinois and past Chief of Staff at Central DuPage Hospital, Winfield, Illinois.  He is a clinical instructor of orthopedic surgery at Loyola University Medical Center, a member of numerous professional organizations including the American College of Sports Medicine, The American Academy of Sports Physicians, the American Orthopaedic Society for Sports Medicine and both the North American and International Arthroscopy Associations.  He is the author of The Complete Book of Sports Medicine and The Gift of Healing.   He is President of the U.S. Swim Team's Sports Medicine Society and has served on the Illinois State Medical Society Sports Medicine Committee.
Also by Richard H. Dominguez, M.D.  The Complete Book of Sports Medicine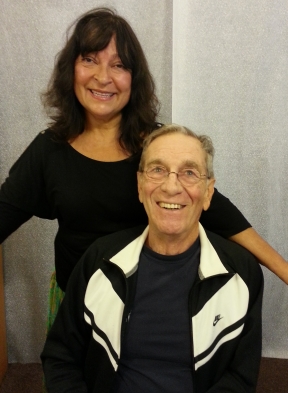 Esther Gutierrez-Sloan with friend and mentor Bob Gajda.