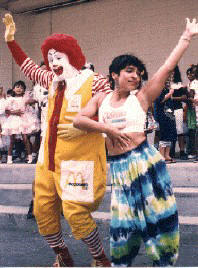 What is SALSArobics?
SALSArobics® is Latino fun and fitness for everyone.
SALSArobics is the original aerobic exercise program based on the spicy music and movements of the tropical Latin world. Performed to rhythms such as Salsa, Cumbia, Mambo, Merengue and more, SALSArobics is the Latin dance party that delivers a whole-body workout.
For those new to tropical Latin and Caribbean rhythms, SALSArobics provides an opportunity to learn the steps to popular Latin dances while exercising. For experienced Latin dancers, SALSArobics is an appealing alternative to conventional aerobic exercise. The movements of SALSArobics have been adapted to aquatic exercise as SALSAquatics™, and to exercise walking as SALSAwalk™.
In February, 2010, Esther Gutiérrez Sloan - the creator of SALSArobics - received the annual "Keeper of the Flame" award from the Chicago International Salsa Congress for her lifelong efforts to keep Latin music and dance alive in our culture. In March, 2010, Esther was inducted into the National Fitness Hall of Fame in recognition of her pioneering efforts to introduce authentic Latin rhythms and dance steps into the aerobics industry.
SALSArobics was proud to be a part of the "Fit to be Me" and "Go Girl Go!" programs offered by the Girl Scouts/Illinois Crossroads Council, offered at schools throughout the Chicago area for girls from kindergarten through eighth grade.